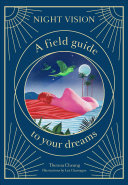 $35.00
NZD
Category: Self Help
Have you ever dreamed that you were flying? That you missed your flight? Or that you got a radical new haircut? Night Vision is a visual field guide to the richly rewarding art of dream interpretation. Begin by learning the techniques, including getting a good night's sleep, recalling your dreams, and u nderstanding the symbolic language through which they unfold. Then you can start interpreting: more than 50 common dream themes are explained with beautiful accompanying illustrations. Understand what your mind is telling you when you're asleep, and you'll unlock your true potential when you're awake.Night Vision holds the answers. ...Show more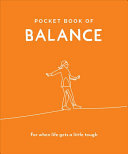 $16.99
NZD
Category: Self Help | Series: Pocket Bks.
Filled with insightful quotes, our Pocket Book of Balance will help you find equilibrium in your life. Whether it's family, love or work, this pocket-sized collection can help you steady the scales. The perfect companion for when it seems like the world is against you, welcome these soundbites into your day-to-day to help you flourish. ...Show more
$16.99
NZD
Category: Self Help | Series: Pocket Books Ser.
When life seems a little joyless, turn to this collection of inspirational quotes to establish some happiness in your life. Filled with wisdom from some of the world's most well-known minds, the Pocket Book of Happiness offers thoughts and advice to restore, reset, and revive your day-to-day life. 'I t hink happiness is overrated. Satisfied, at peace--those would be more realistic goals.' - Brad Pitt 'Happiness is to continue to desire what one possesses.' - St. Augustine of Hippo ...Show more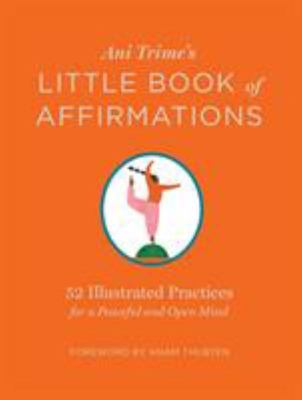 $30.00
NZD
Category: Self Help
"Every thought I think is creating my future." So begin the 52 affirmations of Ani Trime, a beloved teacher in the Tibetan Buddhist tradition who began her own life as a gruff, plainspoken West Virginian. Noted for her humor and no-nonsense approach to spiritual practice, Trime offers wise uplifting aff irmations that will resonate with everyone. Collected in an appealing, pocket-size volume, Ani Trime's Little Book of Affirmations features original illustrations created by 39 well-known contemporary commercial artists. ...Show more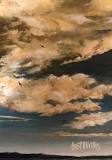 Last Writes
by Penny Macdonald; Rebecca Zwitser
$39.99
NZD
Category: Self Help
"The purpose of Last writes is to prompt you to leave a blueprint for your relatives [and it] invites you to share additional insights into your life"-Front cover flap.
$37.00
NZD
Category: Self Help
Jay Shetty, social media superstar and host of the #1 podcast On Purpose, distills the timeless wisdom he learned as a monk into practical steps anyone can take every day to live a less anxious, more meaningful life. Shetty writes, "I grew up in a family where you could become one of three things: a doc tor, a lawyer, or a failure. My family was convinced I had chosen option three. Instead of attending my college graduation ceremony, I headed to India to become a monk, to meditate every day for 4-8 hours and devote my life to helping others." After three years, one of his teachers told him that he would have more impact on the world if he left the monk's path to share his experience and wisdom with others. Heavily in debt, and with no recognizable skills on his resume, he moved back home to north London with his parents. Shetty reconnected with old school friends--many working for some of the world's largest corporations--who were experiencing tremendous stress, pressure, and unhappiness, and they invited Shetty to coach them on wellbeing, purpose, and mindfulness. Since then, Shetty has become one of the world's most popular influencers. In 2017, he was named in the Forbes magazine 30-under-30 for being a game-changer in the world of media. In 2018, he had the #1 video on Facebook with over 360 million views. His social media following totals over 32 million, he has produced over 400 viral videos which have amassed more than 5 billion views, and his podcast, On Purpose, is consistently ranked the world's #1 Health and Wellness podcast. In this inspiring, empowering book, Shetty draws on his time as a monk in the Vedic tradition to show us how we can clear the roadblocks to our potential and power. Drawing on ancient wisdom and his own rich experiences in the ashram, Think Like a Monk reveals how to overcome negative thoughts and habits to access the calm and purpose that lie within all of us. The lessons monks learn are profound but often abstract. Shetty transforms them into advice and exercises we can all apply to reduce stress, sharpen focus, improve relationships, identify our hidden abilities, increase self-discipline, and give the gifts we find in ourselves to the world. Shetty proves that everyone can--and should--think like a monk. ...Show more
$45.00
NZD
Category: Self Help | Reading Level: very good
Wendyl's story of living the simple life in the country: gardening, foraging, fishing and the freedom she has found in ageing. Beautifully illustrated and including 100 new and delicious recipes. 'An absolute cracker of a guide to feeling content by living more naturally.' - Lynda Hallinan 'When I read A Natural Year I swear I could breathe more deeply after about 10 pages.' - Catherine Woulfe, nzpoetryshelf.com A Natural Year follows writer Wendyl Nissen's life in the peaceful New Zealand countryside over one year. It's the story of what happens in her garden, her kitchen and her life over twelve months, and the thoughts inspired by each passing season. She writes about the freedom that she has found in ageing and the joy that comes along with it. She addresses her depression, anxiety and the mental well-being she's gained from her back-to-basics lifestyle and the practical things she does to live in a sustainable, natural way. With photographs taken at her home in Northland, Wendyl shares 100 new recipes, including how to make yeast from grapes, yoghurt using chilli stalks and many others she has discovered. In a world which can be full of stress and confusion, A Natural Year is a guide to a simpler, less complicated life. ...Show more
$37.00
NZD
Category: Self Help
A beautiful, intimate and inspiring investigation into how we can find and nurture within ourselves that essential quality of internal happiness - the 'light within' that Julia Baird calls 'phosphorescence' - which will sustain us even through the darkest times. Over the last decade, we have become bett er at knowing what brings us contentment, well-being and joy. We know, for example, that there are a few core truths to science of happiness. We know that being kind and altruistic makes us happy, that turning off devices, talking to people, forging relationships, living with meaning and delving into the concerns of others offer our best chance at achieving happiness. But how do we retain happiness? It often slips out of our hands as quickly as we find it. So, when we are exposed to, or learn, good things, how do we continue to burn with them? And more than that, when our world goes dark, when we're overwhelmed by illness or heartbreak, loss or pain, how do we survive, stay alive or even bloom? In the muck and grit of a daily existence full of disappointments and a disturbing lack of control over many of the things that matter most - finite relationships, fragile health, fraying economies, a planet in peril - how do we find, nurture and carry our own inner, living light - a light to ward off the darkness? Absorbing, achingly beautiful, inspiring and deeply moving, Julia Baird has written exactly the book we need for these times. ...Show more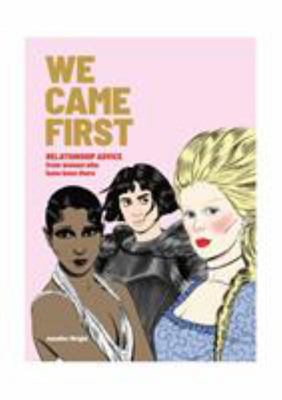 $35.00
NZD
Category: Self Help
History's most fabulous, revered, and sassy women provide wise counsel about modern life's romantic complexities, from dating apps, to feminist conundrums, and how not to give a f*ck. In her punchy new book, bestselling author Jennifer Wright imagines how history's most powerful women would approach cur rent-day dating anxieties, with agony-aunt-style questions, quirky illustrations, and more. Witty, intelligent, and charming, We Came First is the modern guide to seduction and dating for badass ladies. ...Show more

$39.99
NZD
Category: Self Help
In her international bestseller Strong Is the New Pretty (with 329,000 copies in print), the photographer Kate T. Parker changed the way we see girls by showing us their truest selves--fearless, messy, wild, stubborn, proud. Now it's time to talk about our boys. Prompted by #metoo, school shootings, bu llying, and other toxic behavior, there's a national conversation going on about what defines masculinity and how to raise sons to become good people. And Kate Parker is joining in by turning her lens to boys. The result is possibly even more moving, more eloquent, more surprising than Strong.The Heart of a Boy is a deeply felt celebration of boyhood as it's etched in the faces and bodies of dozens of boys, ages 5 to 18. There's the pensive look of a skateboarder caught in a moment between rides. The years of dedication in a ballet dancer's poise. The love of a younger brother hugging his older brother. The unself-conscious joy of a goofy grin with a missing tooth. The casual intimacy of two friends at a lemonade stand. The shyness of a lone boy and his model boat. The intensity in a football huddle. The proud, challenging gaze of a boy bald from alopecia--and the same kind of gaze, but wreathed in tenderness, of a boy a few years younger with flowing, almost waist-length hair. There are guitarists, fencers, wrestlers, star-gazers, a pilot--it's the world of our sons, in all their amazing variety and difference. The photographs feel spontaneous, direct, and with so much eye contact between the viewed and the viewer that it's impossible to turn away. And throughout, words from the boys themselves enrich every photo. What a gift for boys and anyone who is raising them. ...Show more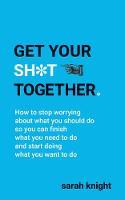 $34.99
NZD
Category: Self Help | Series: A\No F*cks Given Guide Ser.
A New York Times bestseller. From the author of the bestselling book everyone is talking about, The Life-Changing Magic of Not Giving a F**k. How to stop worrying about what you should do, so you can finish what you need to do and start doing what you want to do. Ever find yourself snowed under at the o ffice - or even just glued to the sofa - when you really want to get out (for once), get to the gym (at last), and get started on that daunting dream project you're always putting off? Then it's time to get your sh*t together. In The Life-Changing Magic of Not Giving a F**k, 'anti-guru' Sarah Knight introduced the joys of mental decluttering. Get Your Sh*t Together takes you one stop further - organizing the f*cks you want and need to give to help you quit your day job and move abroad, balance work and fun - and save money while you're at it - or simply get out of the door for happy hour, every day. What everyone is saying about our favourite anti-guru Sarah Knight: 'Life-affirming' Guardian 'The best book I have read recently . . . Absolutely blinding. Read it. Do it.' Mail on Sunday 'Genius' Cosmopolitan 'I love Knight' Sunday Times Magazine 'The anti-guru' Observer ALSO AVAILABLE: YOU DO YOU: how to be who you are and use what you've got to get what you want ...Show more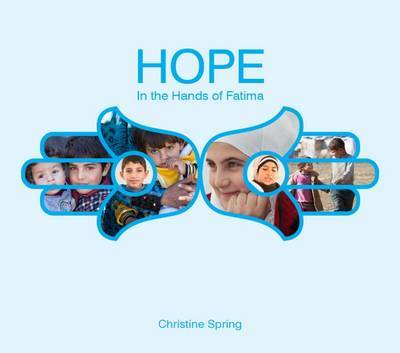 $39.99
NZD
Category: Self Help
All the author's royalties and net proceeds from this book will be donated by Beatnik Publishing to UNICEF NZ for the Syrian Refugee programmes in Lebanon. HOPE chronicles UNICEF NZ's visit to the Saadnayel and Oumarieh Informal Refugee Settlement in Lebanon, where 3 million refugees - 500,000 of whom a re children - have fled to escape the conflict in Syria. Accompanying the UNICEF team was broadcaster and investigative journalist Mike McRoberts and UNICEF ambassador Sonny Bill Williams. Christine Spring's photo-essay raises awareness of the situation millions of Syrians now find themselves in; unable to return home and traumatised by conflict. HOPE is a testament to the resilience of the human spirit, and Christine's images puts you into the presence of the survivors allowing you to "see a person, not a newsflash", humanising the millions displaced by war. 'If it's hard to imagine what life is like inside the biggest refugee crisis since the Second World War, HOPE means you no longer have to. HOPE captures rich images and stories of refugees now surviving in camps in Lebanon. Mothers, fathers, sons and daughters. People just like us, but who now find themselves in the worst of circumstances.' -Mike McRoberts HOPE raises interest and awareness of the work being done by UNICEF and other NGOs (non-governmental organisations) to provide healthcare, education and protection for the hundreds of thousands of children affected by conflict ...Show more